International Student Testimonies
Please find below videos in German, Japanese & Chinese of three wonderful students who have attended Ashburton College. Also meet our Student Leaders and take a look around the College to see what opportunities are available, academic, sporting and cultural.
Lara Linden, Germany
I had a great time at Ashburton College. I met very good friends and enjoyed my classes a lot. One thing I really like about New Zealand Schools is the idea with the different house's and the sports competitions. I also liked the wide range of different subjects, it was really hard to choose. My host families were amazing, I felt like I was part of the family and we had a lot of fun.
Kai Nakamura, Japan
My brother also attended Ashburton College as an international student and he shared with me his experiences, which included the opportunity to improve my English language skills. He was right, not only have I improved my English skills;
I have made a ton of kiwi friends on and off the Badminton court. It was really exciting when I won the Aoraki Badminton tournament! Outside of school my favourite place is the Ashburton Domain, there is nothing like it near my home in Japan. There I can play sports, BBQ and relax with friends.
Norma Meyer, Germany
Ashburton College has given me the chance to meet other international students and students from New Zealand. Everyone has been not only nice, but really helpful as well. The college itself is very modern and offers a wide range of activities to get involved with.
This year, I am excited to start playing rugby for the college. Rugby will be a great experience and a way to learn more about New Zealand culture.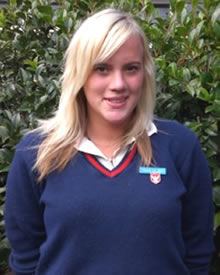 Shelly Zhang, China
Ashburton College has done so much for me. I attended a lot of activities, made many international friends and experienced many new things. I have improved my English, as I communicated with my friends and teachers. I learned a lot from each class, especially in English class. I am able to write a whole essay now! Ashburton College is a very international school, with many students from other countries.