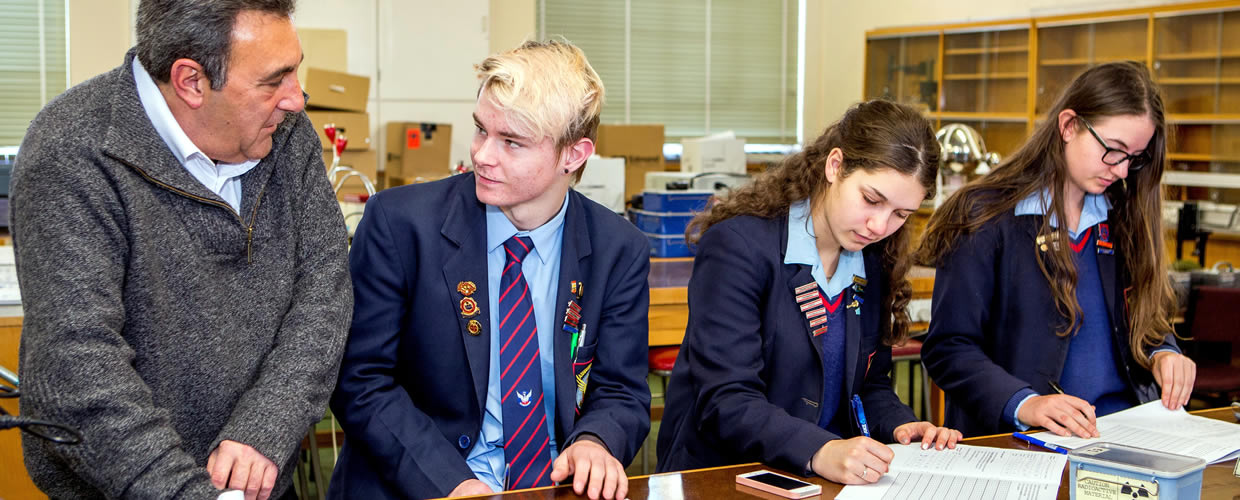 Additional Programmes and Assistance
Additional Programmes and Assistance
While the formal curriculum is central to all students' learning at College, there are many other programmes available to support and extend students' abilities and learning outcomes.
These include:
Identification of Gifted and Talented Students – across the spectrum of learning (academic, cultural, sports, kapahaka and similar).
Individual programmes operate for these students within departments, while access to specific, relevant extension events, courses and opportunities is made available from time to time.
Scholarship Examination Mentoring – Year 13 students.
Video Conference Scholarship Mentoring Courses are also available to students.
Extension Programmes For Able Students – in some subject areas.
Video Conferencing (VC) – this is available for independent and motivated students, more particularly at senior level, and offers valuable flexibility around learning.
Video Conferencing is well suited to those wishing to personalize their course choices, or combination of courses, over and above those available at Ashburton College or where there may be a timetable clash.
The process involves a video conference with a teacher once or twice a week, and generally the balance of the course is on-line.
Video Conference students are well supported, by their own VC teacher and an E-Dean at Ashburton College, as well as having a dedicated VC room available and library space to study in. It is important for VC students to be aware of the need for effective, self-managed study skills.
Further information is available in the College's annual Curriculum Booklet.
As outlined below Video Conference courses may be undertaken in conjunction with Correspondence School learning.
STAR (Secondary Tertiary Aligned Resource) Courses
Government STAR Funding is applied for by the College annually, on an accountability basis. This funding allows the College to offer students targeted, non-traditional school subjects such as Agriculture-based, Business Management, Health and Safety and Tourism Courses.
The Correspondence School - (Taho o Te Kura Pounamu)
This nation-wide school is based in Wellington.
Correspondence School enrolment can be made for the same purposes as a student enrols in Video Conferencing. A number of Correspondence School Courses are supported by Video Conference Courses.
Or –
It may be necessary in special circumstances for a student to take a subject by correspondence from the Correspondence School.
This can be arranged by the College for a student who fits the criteria.
Study Nights in the College Library – these are held towards the end of each academic year, prior to senior student external examinations.
Students can access study support from teaching staff, usually three nights a week, between 7:00 – 9:00pm. Dates are advertised to students well in advance.
Music Tuition – students are able to receive tuition, during class time, from a variety of Itinerant Music Teachers.
This scheme offers string, wind, brass, drum, guitar and singing lessons at a very reasonable annual fee, and instruments are available for hire. Students are able to gain external qualifications through this scheme.
The Music Department can provide costs and relevant information.
Mathematics Tutoring – offers extra assistance to students of any year level, Tuesday and Thursday lunchtimes, in the Library term-time throughout the school year.
Reading Assistance – Ashburton College has two specialist reading teachers who offer assistance and development in reading.
Assistance is delivered to students who require extra support, instead of taking a language option in Year 9, or by being selected to participate in the 'Reading Mentors' scheme.
Reading Mentors' Programme For Boys – a very successful programme where Year 12 boys mentor and support Year 9 boys' reading.
Reader/Writer/Time Allowance Support – NZQA has strict guidelines and criteria for use of this assistance. However, some students may be eligible for reader-writer support or an extra time allowance when sitting examinations. The College supports reader-writer assistance through a pool of volunteers trained in this work, and by ensuring students have sufficient practice pre-examination time.
Student Learning Support Unit – some students receive learning assistance through the Student Learning Support Unit or in classrooms.
Learning Support – if you have a student who has previously had help with a specific learning need please contact us to ensure we are aware of your child's needs.
It is particularly important that you let us know of any diagnosed learning problems such as Dyspraxia, Dyslexia or other Specific Learning Difficulties and any diagnosed behavioural difficulties such as ADHD or Aspergers.
Whilst not able to necessarily 'take away' the problem we can let teachers know and have them aware of strategies to help students continue to make progress.
A to A ('Access to Achieve') Programme – this programme supports 8–10 students at any one time. The programme is designed for students who, for a variety of reasons, are unable to access the curriculum through one or more of their regular mainstream classes.
Referral into the programme is by Heads of School, Special Needs Co-ordinator (SENCO) or a Deputy Principal.
The purpose of the programme is for students, after a period of time, to be successfully reintegrated into their mainstream class or classes or, in some cases, referred to Alternative Education.
Alternative Education – Ashburton College manages the offsite Ministry of Education funded Community Entry Programme which operates for Mid Canterbury Secondary School students who, for a variety of reasons, are unable to access the curriculum through mainstream education.
There is an annual allocation of spaces and clear criteria for entry.
VOCATIONAL ASSISTANCE
Is available through the Transition Department, Gateway Programme and the Trades Course.
Transition Department
Offers careers advice to students across the spectrum of employment opportunities, further study and tertiary education beyond College years.
On a regular basis, at the College's weekly Year 13 Forum, students have the opportunity to hear from a variety of speakers ranging from Tertiary, Polytechnic and StudyLinks Liaison Personnel to Inland Revenue, Banking Representatives and similar who speak on facets of living away from home.
Opportunities for students to experience sections of the work force and visit careers expo's are regularly organised as are annual visits to various tertiary campus sites in Christchurch and Dunedin.
Staff are always available for advice to students.
Gateway
Is a programme offering students in Years 12 and 13 an opportunity to experience workplaces first-hand while engaging in structured workplace learning.
Gateway aims to make learning relevant to the needs of the student, and to ensure a smooth transition from College to employment or further training.
Generally any Gateway training will lead into higher-level qualifications such as Apprenticeships or Diplomas, within the relevant industry.
While on the Gateway Programme a student will spend up to a day a week on a work placement as well as working towards Unit Standards from the National Qualification Framework (NZQA).
Year 12/13 Trades Experience Course
Entry to this one-year course, for up to sixteen students annually, is by application and interview at the end of a school year for course commencement, if accepted, at the start of the following year.
When the students are in College, they undertake English, Mathematics and Graphics, Engineering, and Wood-based Technology. In each subject students do Unit Standards that are related to possible future trades employment. In addition, to complete their timetabled hours, they take two general school subjects of choice.
While on the course students initially visit eight different work placements covering eight different trades. As the year progresses students narrow to four trades, then to two. By experiencing a variety of workplaces first-hand they can make an informed decision about what trade they would really like to work in. Students and families interested in the Trades Course can find out more information in the annual Ashburton College Course Booklet which goes to all Year 10–12 students in Term Three of each year.
Ashburton College acknowledges, with appreciation, the College-Industry links with Grow Mid Canterbury and the Ashburton Business Community which enable the ongoing success of both the Gateway Programme and the Trades Experience Course.
ADULT STUDENTS: FULL or PART-TIME
As a community-based College we welcome adult students.
People aged eighteen years or over, or those who have been away from a secondary school for two years, may enrol as an adult student.
Adult students may access part and full-time courses from any level of the curriculum. The Adult Student Co-ordinator will assist with course planning.
Adult students are part of the normal school timetable therefore some flexibility may be needed if it is necessary to plan around part-time work or child-care.
Adult students entering NCEA Level 3 are encouraged to study full-time if University Entrance is the goal.
To be considered for any College representative activity a minimum of three subjects is required to be taken.
College fees are charged as for all students.